This is where I will talk about current swaps happening and pictures of past swaps! I love to swap fabric and also homemade items!
POSTAGE! I would rather spend my money on fabric and notions, but what can I say, the US has the best selection of ALL of those things. So I have to pay for the postage, but what if I only want a small piece of fabric or a variety of different fabrics, that's where Swaps come in handy. I want to start a European Fabric Swap Group, of course anyone is welcome even you lucky ducks in America, but this is mostly for us Internationals.
I am hoping to do several rounds of different themes, you pick the first one, Traditional Christmas Fabrics or Low Volume/Text? What would you like to do first? We will be swapping
brick charms
, (5" X 10" pieces of fabric) you can find a tutorial for how to cut them
here
. There will be 28 spots per swap and you can take as many spots as you like.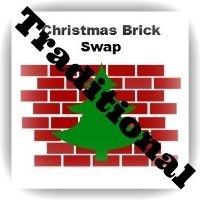 I will arrange for a shop to give us a discount code and you can use that to purchase
In the meantime, if you think you might want to participate, please join the
Flickr group
for the swap. When the time comes, that's where the confirmed participants will upload an image of the fabric they're contributing.
Stay tuned for a blog post to show up here soon that will contain all of the details for the swap and the registration form for round one.
American Made Brand Swap:
hosted by Erin in the greater Chicago area.